Become the talk of the town with Customized Fabric Displays
Showcase your fabric display in the best light possible with fabric display stands from The Sign Shark. We provide you with high-quality and customizable displays. You can create a unique message, add graphics and images to the fabric display to attract your audience's attention. By displaying your fabric display, not only will you be driving traffic to your location but also engaging your audience. You can easily adjust the message on your indoor banners depending on your branding, promotional need, or message changes.
Our fabric display equipment has powerful, yet energy-efficient LED lights to gather all the attention on your display! The lights will surround your graphics in a soft white glow with optimum illumination. We use a dye sublimation process to bond the design to the fabric on a molecular level, so it won't crack or peel.
Displays are easy to set up, the lightweight frame of aluminum alloy sets up within minutes, making it ideal for travel. The graphics are interchangeable with Velcro strips and can stay attached when the frame is collapsed. simply clamp the light onto your display with the included adapter clip. It features a convenient on/off switch and lengthy power cords. The displays come with black nylon carrying bag for easy transportation to your set up destination or storage.
Get the Most out of Your Fabric Displays from The Sign Shark
At Sign Shark we offer table covers in three different styles and lengths which can be customized into limitless prints. Here are a few of your options: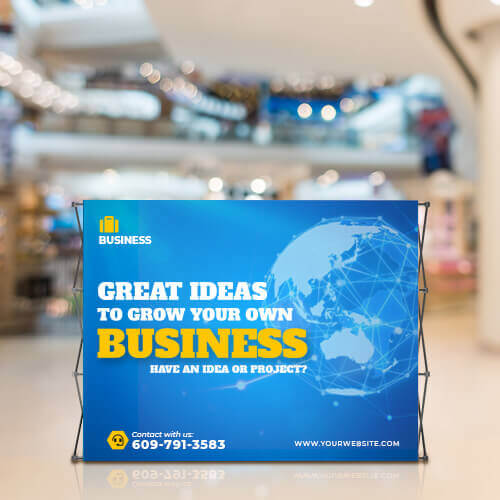 If you are shopping for display stands, then Sign Shark is the place to be. There are many types of fabric displays to choose from to suit your needs. Choose from the available range of displays and get some of the best deals in the market. Our banners combine quality with affordability, ensuring you get what you are looking for at a fair price. Our display stands are easy to assemble, lightweight, and eye-catching. They are also highly portable, making them versatile, especially when traveling or presenting at different locations.
Sign Shark prides itself on being a top in customizable supplier fabric displays. Our collection of fabric displays is available in various sizes and shapes to choose from. We aim at ensuring your display is special and meets the needs of your business or occasion. Our customizable fabric displays are available in several sizes to accommodate almost any of your signage needs. They are the perfect way of showcasing your brand at trade shows, point of sale displays, and special events. For more information about our products, please contact our helpful and knowledgeable customer service representatives at 1-800-859-3327 or via email at hello@thesignshark.com.