Tear Drop Flags Are An Eye-Catching Advertising Tool
Tear Drop Flags, also referred to as tear drop banners, are another in our line of popular, affordable, and eye-catching advertising flags.
Using the same streamlined shape as our Feather and Falcon flags, these tear-drop shaped advertising flags are designed to attract attention to your business or event. Specially designed to be visible in any windy outdoor conditions, all Tear Drop flags are customized to your graphic artwork, and printed on a polyester-blend mesh material using our dye sublimation process. Vivid inks heavily saturate the material to create a "bleed-through" effect for our single-sided displays.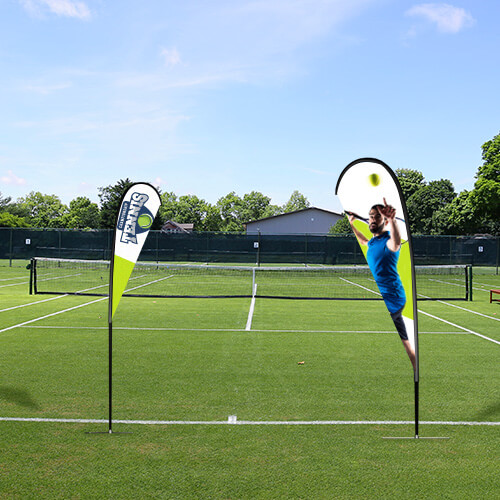 Tear Drop flags are available in S, M, L, and XL sizes to suit any promotional need.
For double-sided graphics, we print two separate flags, placing a silver-gray blocker material in the middle. All three pieces of fabric are sewn together to create a non-see-through double-sided banner flag.
Tear Drop banner stand outdoor flags include your custom printed material, stand and spike base. Spike bases are best on any grass or soft, penetrable ground. An available X-base is used on any hard ground outside, such as concrete, or indoors (ceiling height permitting).
They're one of the most affordable ways to promote your event, business, or festival. Whether you choose small, medium, large or extra large, Tear Drop outdoor flags are the right choice for any advertising or promotional need.
Each size has plenty of space to custom-print your graphics, either single or double-sided. Our dye-sublimation printing process embeds ink directly into the fabric for permanent high-resolution graphics that won't peel or crack.
Like all of our flags and banners, Tear Drop flags are easy to assemble and disassemble, and the available heavy-duty bases provide stability in any conditions. They're sturdy yet lightweight, and each size flag is constructed with full-color, weather-resistant polyester mesh fabric.
Tear Drop Flags are perfect for businesses, festivals and promotional events such as:
Real estate open houses

Apartment rentals

Restaurants & bars

Libraries & schools

Community events

Festivals and much more!

Business grand openings and much more!
Tear drop flags and outdoor banners get results for you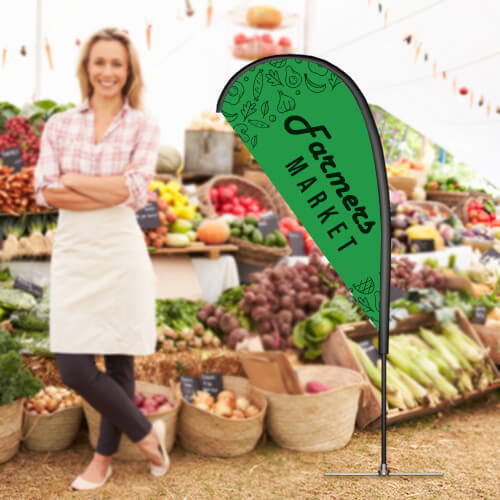 Available in four sizes (S, M, L, XL) to meet your business or event needs, every indoor & outdoor Tear Drop flag features an aluminum pole and sturdy base suitable for display on any hard or soft surface, in all types of weather or situations.
Perfect for roadsides, storefronts, at festivals, grand openings, farmers markets, any indoor or outdoor event!
Customize any size flag with your logo, text and any colors you want. We even offer FREE design services! Because your business can't wait, our turnaround times are lightning quick and our prices are competitive. The only thing cheap about our Mamba Flags is the price!
With fast production and delivery times and a 100% satisfaction guarantee, you know you're getting the most out of your advertising dollar without spending a fortune.
At SignShark, we know how to produce high-quality advertising products and we know how to help your business attract attention to help your bottom line. Pick a size and let's get started promoting your brand!